HARRY POTTER AND THE ORDER OF THE PHOENIX
Five's a Charm
Potter Franchise Finds Intelligence
By Cole Smithey
Just as Daniel Radcliffe has matured as an actor, the fifth Harry Potter franchise installment has graduated in scope toward a movie capable of entertaining adults and children alike. After so much critical hullabaloo about "darkening up" the films, British director David Yates ("The Girl In The Café") takes the reins of J.K. Rowling's politically pertinent storyline rendered by screenwriter Michael Goldenberg ("Contact") that errs on the side of drama over comedy.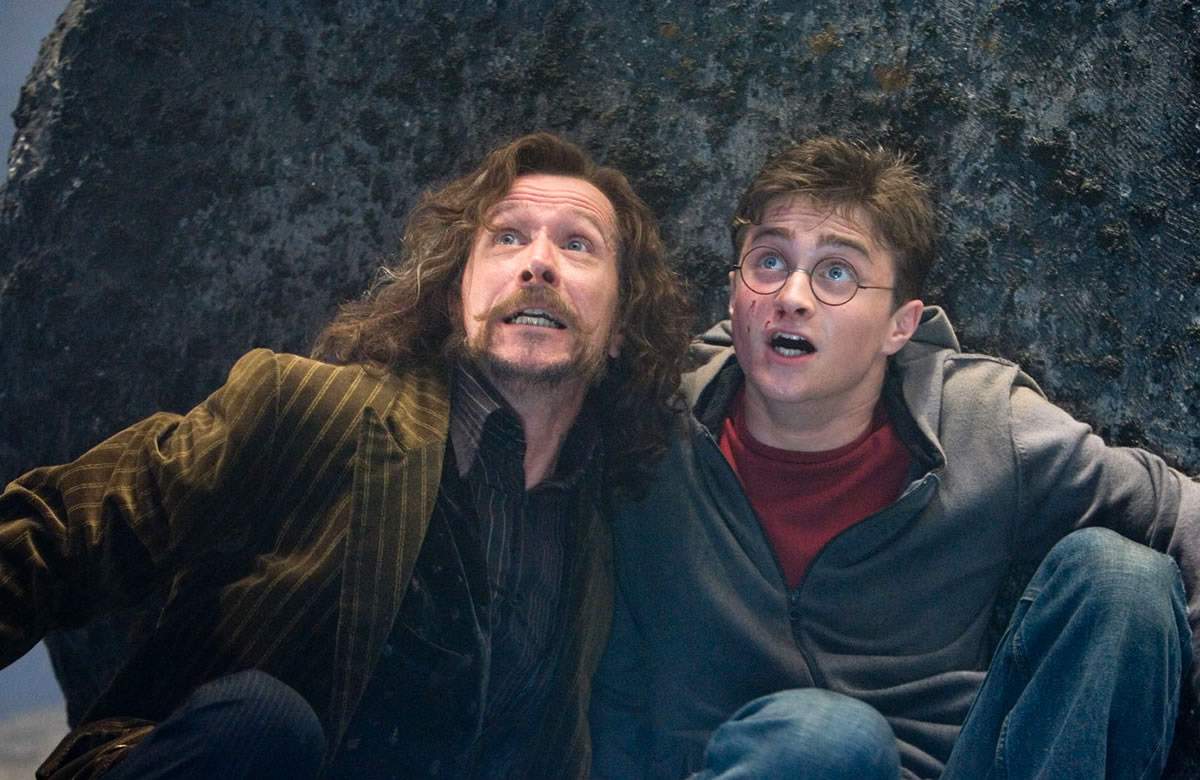 Harry's days of coming-of-age are officially over when he becomes the ambivalent leader of a revolution at Hogwarts after an opportunist Professor Dolores Umbridge (Imelda Staunton – "Vera Drake") is appointed to usurp power. Yates tosses in dashes of snappy thematic touches from films like "1984," "Brazil" and even "The Exorcist," to create a subtext-rich visual palate for a narrative that compartmentalizes sentimentality into a handheld crystal ball.
The action kicks off with a gothic tone as caliginous storm clouds interrupt a playground confrontation between Harry and his ridiculing cousin Dudley. The inclement weather forebodes the arrival of two Dementors (death angels, if you will) that chase Harry and Dudley into a tunnel where they commence sucking the life force from the two boys. Harry skillfully dispatches the vile creatures with his trusty wand, but soon pays a toll when a talking envelope arrives from the Ministry of Magic announcing his expulsion from Hogwarts' school for practicing magic in the presence of a Muggle. Alastor Moody (Brendan Gleeson) arrives to spirit Harry away by broom to the dingy secret headquarters for the Order of the Phoenix where Sirius Black (Gary Oldman) blesses his Godson's intention to continue fighting Lord Voldemort (Ralph Fiennes) with a knowing wink. But first, Harry must endure and defeat an inquisition within the blackened corridors of the Ministry of Magic where Hogwarts headmaster Albus Dumbledore defends Harry's disbelieved story about Voldemort's recent return.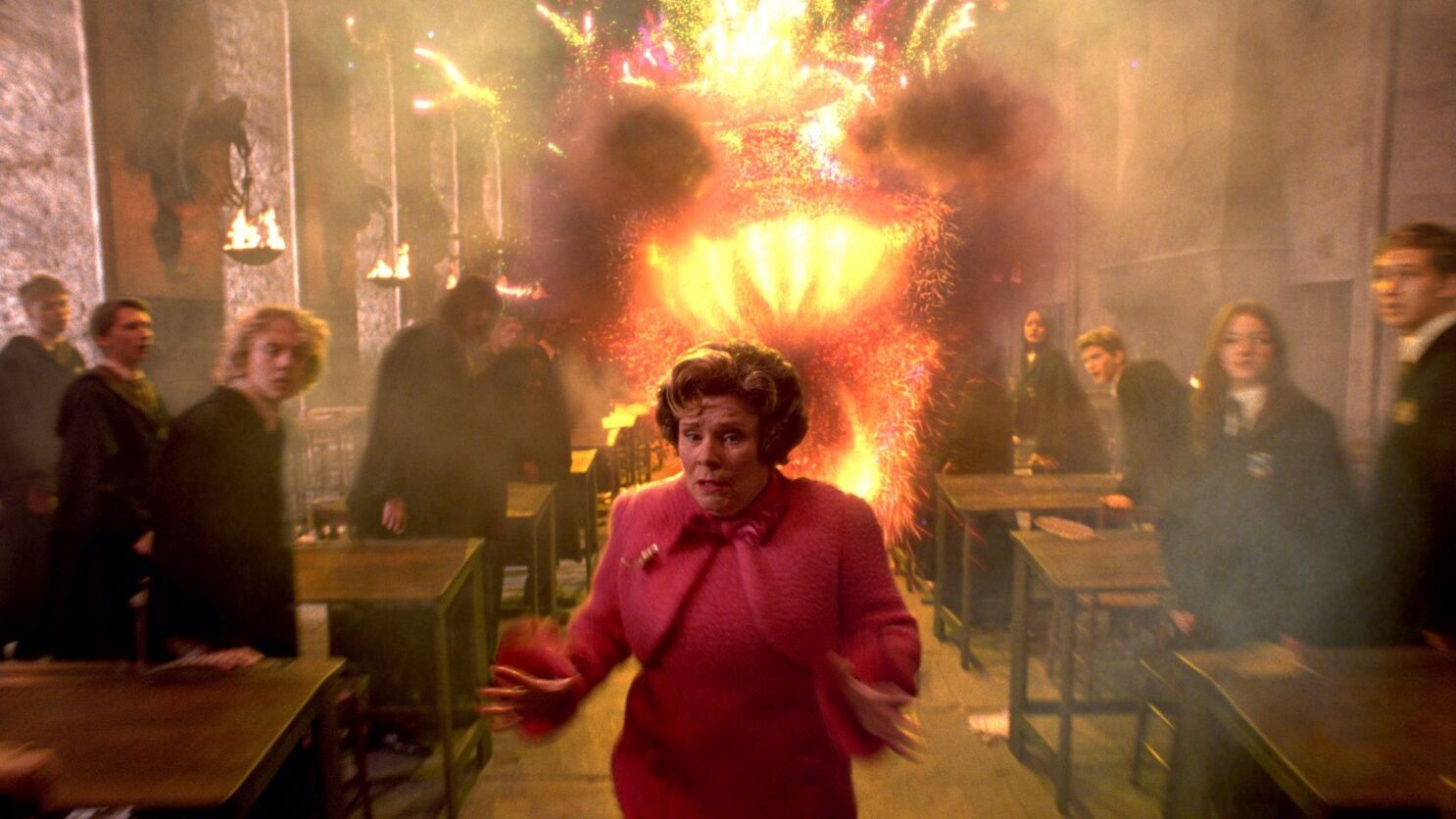 Harry doesn't realize that his personal persecution is about to extend to his classmates under the fake smile Hogwarts' new professor of the Dark Arts, Ms. Umbridge. In a running gag consistent with the evaporation of America's articles of its constitution, Ms. Umbridge begins posting an increasing list of limitations on the students while firing trusted staff members such as the daffy Sybil Trelawney (Emma Thompson). After replacing the student's practical textbook on magic with an elementary manual, Ms. Umbridge shows off her torturing talents by privately making Harry write "I must no tell lies" with blood ink that mysteriously comes from the flesh of his left hand as he writes. The openly political coup that Imelda Staunton's divisive character commits, establishes the Ministry's control of the school by stealing liberty right out from under the nose of its well-intentioned staff, including Dumbledore.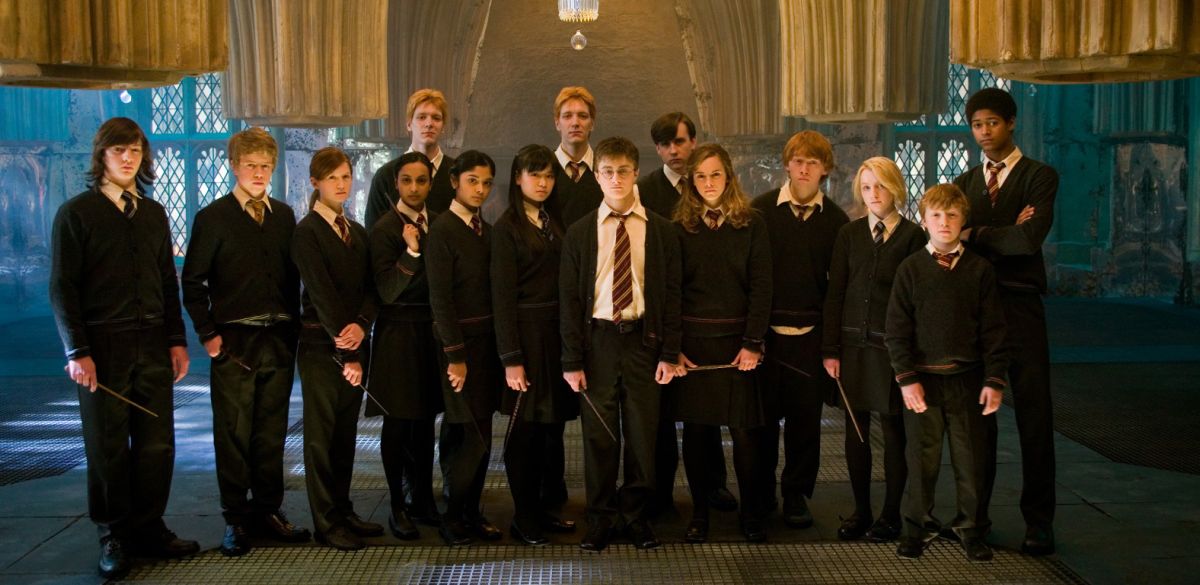 It's in this turn of events that Harry convenes freedom-fighting magic classes for his appropriately named "Dumbledore's Army." Ultimately the magic lessons primarily serve to prepare Harry for an inevitable battle against Voldemort and his freaky assistants Lucius Malfoy (Jason Isaacs) and Bellatrix Lestrange (Helena Bonham Carter). The clandestine displays of wizardry allow for some enjoyable montages of wand waving that pave the way for Harry to share an extended kiss with heartbreaker Cho Chang (Katie Leung).
You get the sense that "Harry Potter and the Order of the Phoenix" is the culmination of efforts from a group of highly talented and rapidly aging actors who have more at stake this time around. Every performance from such notables as Michael Gambon, Gary Oldman, Alan Rickman and from the ever-surprising Imelda Staunton, carries an added dimension of personal significance. With David Yates already in pre-production on the next Potter movie ("Harry Potter and the Half-Blood Prince") it seems that the franchise may finally have arrived at its balance. Although marred by some inept editing by Mark Day, "The Order of the Phoenix" is the first of the series to resound as a multifaceted narrative that understands its own intentions. It is intelligent.
Rated PG-13. 139 mins.
Groupthink doesn't live here, critical thought does.
This website is dedicated to Agnès Varda and to Luis Buñuel.
Get cool rewards when you click on the button to pledge your support through Patreon. Thanks a lot pal!