Slavoj Žižek - CRITERION DVD Picks
Posted by Cole Smithey on January 25, 2015 in BLU-RAY, Culture, DVD, Film | Permalink

Save to del.icio.us
|
Digg This
Vermont High Schoolers Just Destroy Fox News About The Ethics Of Journalism
Posted by Cole Smithey on January 24, 2015 in Culture, Politics | Permalink
Save to del.icio.us | Digg This
Robert Greenwald on the Ed Show: American Sniper
Posted by Cole Smithey on January 21, 2015 | Permalink | Comments (0) | TrackBack (0)

Save to del.icio.us
|
Digg This
MOMA and FLSC Announce New Directors/New Films Selections (March 18-29)



The Museum of Modern Art and the Film Society of Lincoln Center announce the initial nine official selections for the 44th edition of New Directors/New Films (March 18-29)
Selections include Nadav Lapid's The Kindergarten Teacher and Kornél Mundruczó's White God
  
New York, NY (January 21, 2015) – The Museum of Modern Art and the Film Society of Lincoln Center today announced the initial nine official selections for the 44th edition of New Directors/New Films (ND/NF), a festival dedicated to the discovery of new works by emerging and dynamic filmmaking talent. 
  
Representing 11 countries from around the world, the initial nine selections are Charles Poekel's Christmas, Again (USA), Chaitanya Tamhane's Court (India), Rick Alverson's Entertainment (USA), Severin Fiala and Veronika Franz's Goodnight Mommy (Austria), Sarah Leonor's The Great Man (France), Nadav Lapid's The Kindergarten Teacher (Israel/France), Naji Abu Nowar's Theeb (Jordan/Qatar/United Arab Emirates/UK), Myroslav Slaboshpytskiy's The Tribe (Ukraine), and Kornél Mundruczó's White God (Hungary). 
  
Four of the first nine titles announced will screen at the Sundance Film Festival including two feature-film directorial debuts: Charles Poekel's Christmas, Again about a heartbroken Christmas tree salesman, and Myroslav Slaboshpytskiy's winner of the Critics' Week grand prize at Cannes, The Tribe, which is set in a school for deaf and mute coeds, and is communicated entirely in sign language—with no subtitles. Rick Alverson'sEntertainment, a follow-up to The Comedy, follows a broken-down comedian playing a string of stand-up gigs across the Mojave Desert. Kornél Mundruczó's White God, which won the Un Certain Regard prize in Cannes, follows the brutal struggle a little girl's dog must go through to find his way back to her after he is abandoned in the city. 
  
Winner of numerous prizes at film festivals, including the Luigi De Laurentiis Award and the Venice Horizons Award at the Venice Film Festival, Chaitanya Tamhane's Court is a devastating exploration of a kangaroo court process railroading an aging folk singer. Another multiple prizewinner is Naji Abu Nowar's Theeb. Winner of the Jury Prize for Best Cinematography and Art Direction at the Cairo International Film Festival, Best Directorial Debut at Camerimage, and the Venice Horizons Award for Best Director at the Venice Film Festival, the film is a coming-of-age story of a young Bedouin boy as he guides a British officer through harsh territory. 
  
Nadav Lapid follows his impressive first feature, Policeman (which was a New York Film festival selection and subsequently screened at FSLC's Film Center), with The Kindergarten Teacher. A winner at the Jerusalem Film Festival and Seville European Film Festival, the film is about a teacher who becomes overly protective of a young prodigy in her class. And Sarah Leonor follows her award-winning feature debut, A Real Life, with The Great Man, about an immigrant in the French Legionnaire's whose actions lead to an ambush on his unit. Severin Fiala and Veronika Franz's Goodnight Mommy won the FIPRESCI Prize at the Thessaloniki Film Festival. The thriller focuses on a pair of 9-year-old twins who believe their mother, recently returned from facial reconstruction surgery, is actually a stranger. 
  
Well into its fourth decade, New Directors/New Films has been a beacon for emerging directors eager to make their mark on contemporary cinema. The festival has introduced or cemented the status of some of the world's most celebrated filmmakers, including Chantal Akerman, Pedro Almodóvar, Darren Aronofsky, Ken Burns, Agnieszka Holland, Spike Lee, Christopher Nolan,  Steven Spielberg, and Wong Kar Wai. The past few years have featured the work of Ana Lily Amirpour ( A Girl Walks Home Alone at Night), J.C. Chandor ( Margin Call), Shane Carruth ( Upstream Color), Gareth Huw Evans ( The Raid), Jennifer Kent ( The Babadook), Terence Nance ( An Oversimplification of Her Beauty), Joshua Oppenheimer ( The Act of Killing), Sarah Polley ( Stories We Tell), Dee Rees ( Pariah), Justin Simien ( Dear White People), and Denis Villeneuve ( Incendies), among others. 
  
The New Directors/New Films selection committee is made up of members from both presenting organizations: from The Museum of Modern Art, Jytte Jensen, Rajendra Roy, and Joshua Siegel, and from the Film Society of Lincoln Center, Dennis Lim, Marian Masone, and Gavin Smith. The complete lineup of selections for the 44thNew Directors/New Films Festival will be announced in February. 
  
Film Society and MoMA Members may purchase tickets starting at noon on Tuesday, March 3. Tickets will be available for purchase by the General Public on Tuesday, March 10. To become a Member of the Film Society or MoMA please visit filmlinc.com and MoMA.org, respectively. 
  
The nine official selections include: 
  
Christmas, Again 
Charles Poekel, USA, 2014, 79m 
A forlorn Noel (Kentucker Audley) pulls long, cold nights as a Christmas-tree vendor in Greenpoint, Brooklyn. As obnoxious, indifferent, or downright bizarre customers come and go, doing little to restore Noel's faith in humanity, only the flirtatious innuendos of one woman and the drunken pleas of another seem to lift him out of his funk. Writer-director Charles Poekel has transformed three years of "fieldwork" peddling evergreens on the streets of New York into a sharply observed and wistfully comic portrait of urban loneliness and companionship. While Christmas, Again heralds a promising newcomer in Poekel, it also confirms several great young talents of American indie cinema: actors Audley and Hannah Gross, editor Robert Greene, and cinematographer Sean Price Williams. 
  
Court 
Chaitanya Tamhane, India, 2014, 116m 
Marathi, Gujarati, and Hindi with English subtitles 
Winner of top prizes at the Venice and Mumbai Film Festivals, Chaitanya Tamhane's Court is a quietly devastating, absurdist portrait of injustice, caste prejudice, and venal politics in contemporary India. An elderly folk singer and grassroots organizer, dubbed the "people's poet," is arrested on a trumped-up charge of inciting a sewage worker to commit suicide. His trial is a ridiculous and harrowing display of institutional incompetence, with endless procedural delays, coached witnesses for the prosecution, and obsessive privileging of arcane colonial law over reason and mercy. What truly distinguishes Court, however, is Tamhane's brilliant ensemble cast of professional and nonprofessional actors; his affecting mixture of comedy and tragedy; and his naturalist approach to his characters and to Indian society as a whole, rich with complexity and contradiction. 
  
Entertainment 
Rick Alverson, USA, 2015, 110m 
Following up his 2013 breakthrough, The Comedy, director Rick Alverson reteams with that film's star, Tim Heidecker (here serving as co-writer), for a hallucinatory journey to the end of the night. Or is it the end of comedy? Cult anti-comedian Gregg Turkington (better known as Neil Hamburger) stars as a washed-up comic on tour with a teenage mime (Tye Sheridan), working his way across the Mojave Desert to a possible reconciliation with the estranged daughter who never returns his interminable voicemails. Our sort-of hero's stand-up set is an abrasive assault on audiences, so radically tone-deaf as to be mesmerizing. Alverson uses a slew of surrealist flourishes and poetic non- sequiturs to fashion a one-of-a-kind odyssey that is by turns mortifying and beautiful, bewildering and absorbing. John C. Reilly, Michael Cera, Amy Seimetz, Dean Stockwell, and Heidecker are among the performers who so memorably populate the strange world ofEntertainment, a film that utterly scrambles our sense of what is funny—and not funny. 
  
Goodnight Mommy 
Severin Fiala & Veronika Franz, Austria, 2014, 100m 
German with English subtitles 
The dread of parental abandonment is trumped by the terror of menacing spawn in Severin Fiala and Veronika Franz's exquisite, cerebral horror-thriller. Lukas and Elias are 9-year-old twins, alone with their fantastical playtime adventure-worlds in a countryside home, until their mother comes home from facial-reconstructive surgery. Or is she their mother? Her head entirely bandaged, and her personality radically changed, the boys begin to wonder what this stranger has done to their "real" mother. They set out to uncover the truth, by any means their childish minds can conjure. As with most fairy tales, it turns out that children can imagine and endure things that cause more mature minds and bodies to wither from fear. Produced by renowned auteur, and frequent script collaborator with Franz, Ulrich Seidl, Goodnight Mommy is an intelligent and engaging step forward for Austrian cinema. Fans of Michael Haneke's work will find much to appreciate as well. Ultimately, this is a heartbreaking tale of love and loss wrapped in one of the scariest films of the year. A RADiUS-TWC release.
  
The Great Man 
Sarah Leonor, France, 2014, 107m 
French with English subtitles 
When we first meet Markov (Surho Sugaipov), he and fellow French Legionnaire Hamilton (Jérémie Renier) are tracking a wild leopard in a desert war zone, at the end of their posting in Afghanistan. An ambush results in an abdication of duty—despite it stemming from an act of fidelity. We learn that Markov had joined the Legion as a foreign refugee, hoping to gain his French citizenship and provide a better life for his young son. Ultimately, the complications of immigration and legal status seem petty when compared with the primal urge to do right by those who have committed their lives to saving others'. The intrinsic struggle between paternal/fraternal responsibility and unfettered mobility takes on a deeply moving dimension in Sarah Leonor's alternately heartbreaking and empowering sophomore feature. 
  
The Kindergarten Teacher 
Nadav Lapid, Israel/France, 2014, 119m 
Hebrew with English subtitles 
Nadav Lapid's follow-up to his explosive debut, Policeman, is a brilliant, shape-shifting provocation and a coolly ambiguous film of ideas. Nira (Sarit Larry), a fortysomething wife, mother, and teacher in Tel Aviv, becomes obsessed with one of her charges, Yoav (Avi Shnaidman), a 5-year-old with a knack for declaiming perfectly formed verses on love and loss that would seem far beyond his scope. The impassive prodigy's inexplicable bursts of poetry—Lapid's own childhood compositions—awaken in Nira a protective impulse, but as her actions grow more extreme, the question of what exactly she's protecting remains very much open. The Kindergarten Teacher shares the despair of its heroine, all too aware that she lives in an age and culture that has little use for poetry. But there is something perversely romantic in the film's underlying conviction: in an ugly world, beauty still has the power to drive us mad. 
  
Theeb 
Naji Abu Nowar, Jordan/Qatar/United Arab Emirates/UK, 2014, 100m 
Arabic with English subtitles 
A quietly gripping adventure tale that's perhaps intended as a corrective to the romantic grandeur of Lawrence of Arabia, Naji Abu Nowar's Theeb is classic storytelling at its finest. The year is 1916, the setting is a desert province on the edge of the Ottoman Empire, and it's a time of war. Seeking help, a British Army officer and his translator arrive at an encampment of Bedouins, who, according to their traditions, provide hospitality and assistance in the form of a guide. The guide's younger brother Theeb (Jacir Eid) follows and then tags along with the three grown-ups, who soon find themselves threatened by hostiles. As a boy who learns how to survive and become a man amidst the violent and mysterious agendas of adults, Eid carries this concise and unsentimental film on his young shoulders with amazing assurance. 
  
The Tribe 
Myroslav Slaboshpytskiy, Ukraine, 2014, 132m 
A silent film with a difference, this entirely unprecedented tour de force was one of the must-see flash points at last year's Cannes Film Festival. Why? Because its entire cast is deaf and mute and the "dialogue" is strictly sign language—without subtitles. Set at a spartan boarding school for deaf and mute coeds, The Tribe follows new arrival Sergey (Grigory Fesenko), who's immediately initiated into the institution's hard-as-nails culture with a beating before ascending the food chain from put-upon outsider to foot soldier in a criminal gang that deals drugs and pimps out their fellow students. With his implacable camerawork and stark, single-minded approach (worthy of influential English director Alan Clarke), first-time feature director Myroslav Slaboshpytskiy overcomes what may sound like impossible obstacles to tell a grim but uncannily immersive story of exploitation and brutality in a dog-eat-dog world, delivering a high-school movie you won't forget. A Drafthouse Films release. 
  
White God 
Kornél Mundruczó, Hungary, 2014, 119m 
Hungarian with English subtitles 
Thirteen-year old Lili and her mixed-breed dog Hagen are inseparable. When officials attempt to tax the mutt (a law that didn't pass in Hungary, but was actually attempted), Lili's father dumps Hagen on the street. While Lili tries in vain to find her dog, he goes through numerous trials and tribulations, along with other cast-off pets that wander alleyways looking for food and avoiding the pound. Hagen is taken in by some no-goods and trained to be a fighter, losing his domestic instincts in the process. When Hagen finally escapes with an army of canines in tow, they set out to take their revenge on the humans who wronged them, taking no prisoners. Kornél Mundruczó's shocking fable, which won the Un Certain Regard prize in Cannes, captivatingly weaves together elements of melodrama, adventure, and a bit of horror in order to pose fundamental questions of equality, class, and humanity. A Magnolia Pictures release. 
  
About New Directors/New Films 
Dedicated to the discovery and support of emerging artists, New Directors/New Films has earned an international reputation as the premier festival for works that break or re-cast the cinematic mold. The New Directors/New Films selection committee is made up of members from both presenting organizations: from The Museum of Modern Art, Jytte Jensen, Rajendra Roy, and Joshua Siegel; and from the Film Society of Lincoln Center, Dennis Lim, Marian Masone, and Gavin Smith. 
  
MUSEUM OF MODERN ART 
The Museum of Modern Art's Department of Film was established as the Film Library in 1935, and presented its first series as circulating exhibitions in 1936. The Film Department organizes over 50 film exhibitions every year, including annual programs such as To Save and Project: The MoMA International Festival of Film Preservation, Documentary Fortnight, and The Contenders. The Department also organizes exhibitions in MoMA's galleries, including Tim Burton (2009–10), Dante Ferretti: Design and Construction for the Cinema(2013–14), and 100 Years in Post-Production: Resurrecting a Lost Landmark of Black Film History (2014-15). The department also has an extensive archive of over 27,000 film and video works, including the world's largest institutional collections of the works of D. W. Griffith, Andy Warhol, and Stan Brakhage. Rajendra Roy is the current Celeste Bartos Chief Curator of Film, appointed in May 2007. 
  
FILM SOCIETY OF LINCOLN CENTER 
Founded in 1969 to celebrate American and international cinema, the Film Society of Lincoln Center works to recognize established and emerging filmmakers, support important new work, and to enhance the awareness, accessibility, and understanding of the moving image. The Film Society produces the renowned New York Film Festival, a curated selection of the year's most significant new film work, and presents or collaborates on other annual New York City festivals including Dance on Camera, Film Comment Selects, Human Rights Watch Film Festival, New Directors/New Films, NewFest, New York African Film Festival, New York Asian Film Festival, New York Jewish Film Festival, Open Roads: New Italian Cinema and Rendez-Vous with French Cinema. In addition to publishing the award-winning Film Comment magazine, the Film Society recognizes an artist's unique achievement in film with the prestigious Chaplin Award, whose 2015 recipient is Robert Redford. The Film Society's state-of-the-art Walter Reade Theater and the Elinor Bunin Munroe Film Center, located at Lincoln Center, provide a home for year-round programs and the New York City film community. 
  
For more information, visit www.filmlinc.com , follow @filmlinc on Twitter, and download the FREE Film Society app, now available for iOS (iPhone and iPad) and Android devices. 
  
  
SPONSORSHIP: 
New Directors/New Films  is presented by The Museum of Modern Art and the Film Society of Lincoln Center and is supported by Kenneth Kuchin, The Junior Associates of The Museum of Modern Art, The Film Society's New Wave, The New York Times, American Airlines, and Stella Artois. 
Posted by Cole Smithey on January 21, 2015 in Film Festivals | Permalink
Save to del.icio.us | Digg This
Kino Lorber Releases Le Pont du Nord
Kino Lorber Releases 
Le Pont du Nord
,
a rarely-seen classic by acclaimed French New Wave filmmaker Jacques Rivette 
Available on Blu-ray & DVD February 17th
One of Rivette's greatest works, this mysterious, surreal puzzle film starring Bulle Ogier, Pascale Ogier and Pierre Clementi will be released on Blu-ray & DVD on February 17th packed with bonus features including a booklet, original written and visual essays and more 
"One of the year's ten best. A loose, funny, largely improvised film in the form of a game." - Dave Kehr, Chicago Reader

"Renders the ordinary dreamlike..." 
- J. Hoberman, Blouin ArtInfo

"Magnificent." - Melissa Anderson, Artforum

"Watching the film now, on the occasion of its first release in U.S. theaters, it seems more obvious than ever how much Rivette has influenced a subsequent generation of filmmakers - Spike Jonze, Charlie Kaufman, Michel Gondry - and expanded our sense of the possible." 
- Scott Foundas, Village Voice

NEW YORK, NY - JANUARY 21, 2015 - Kino Lorber is proud to announce the Blu-ray and DVD release of LE PONT DU NORD, an enigmatic and entrancing cinematic puzzle directed by award-winning filmmaker and French New Wave innovator Jacques Rivette (Celine and Julie Go Boating). Set in Paris, the luminously-photographed film centers around Marie and Baptiste (played by Bulle Ogier and her daughter Pascale Ogier) who follow Marie's ex-lover (Pierre Clementi) around a labyrinthine Paris on a surreal and mysterious journey that leads them from one clue to another but provides no clear answers.

Set to street on February 17, LE PONT DU NORD comes to Blu-ray (SRP: $29.95) and DVD (SRP: $24.95) packed with special features, including a booklet with the original press notes and an essay by Dennis Lim, "Mapping LE PONT DU NORD", an image-essay by Roland-François Lack, and "Composites", a video-essay by Gina Telaroli.

Originally released in 1981, this important film from one of the leading directors in world cinema had its US Theatrical Premiere release by The Film Desk, opening at BAM in March 2013 to great acclaim before going on to play in other key national markets.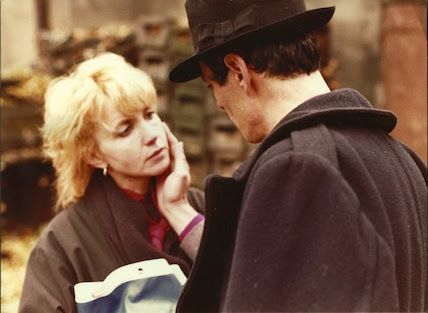 SYNOPSIS:

LE PONT DU NORD (1981) is an entrancing puzzle film with the city of Paris as a continually shifting game board. It is one of director Jacques Rivette's most mysterious and haunting works, a dark companion piece to Celine and Julie Go Boating (1974). 


Marie (Bulle Ogier, L'amour Fou, Maitresse) has just been released from prison, and encounters the paranoid loner Baptiste (Pascale Ogier, Full Moon in Paris). They follow Marie's ex-lover Julien (Pierre Clementi) and his talismanic briefcase as Paris begins to open up to them as a series of enigmatic clues. The city is a labyrinth of possibilities but no certainties, a place of fantastical fables (here be dragons) and the brute realities of the street.


Shot on luminous 16mm by the great cinematographers William Lubtchansky (
Shoah, Every Man for Himself
,
 Regular Lovers
) and Caroline Champetier (
I Can No Longer Hear the Guitar
), 
LE PONT DU NORD
 is surreal, gorgeous, and heartbreaking, and is surely one of Rivette's greatest works.

BONUS FEATURES:
Booklet with Original Press Notes and Essay by Dennis Lim
Mapping LE PONT DU NORD, an image-essay by Roland-François Lack
COMPOSITES, a video-essay by Gina Telaroli

LE PONT DU NORD
Director: Jacques Rivette
Written by Bulle Ogier, Pascale Ogier, Suzanne Schiffman and Jacques Rivette
Photographed by William Lubtchansky, Caroline Champetier, Matthieu Schiffman
Starring Bulle Ogier, Pascale Ogier, Pierre Clementi, Jean-Francois Stevenin

France/1981/1.37:1/128 minutes/2.0 Stereo/Color
French with Optional English Subtitles

Licensed from The Film Desk
Posted by Cole Smithey on January 21, 2015 in BLU-RAY | Permalink | Comments (0) | TrackBack (0)
Save to del.icio.us | Digg This
Want to Support Free Expression After Charlie Hebdo? Hire a Political Cartoonist.
SYNDICATED COLUMN BY TED RALL
January 12, 2015
Here's what you need to understand the state of political cartooning in the United States:
After the massacre of four cartoonists at Charlie Hebdo last week, 25 remain on staff at the French publication, whose circulation ranges between 30,000 and 60,000 per week.
In the United States, a total of 25 staff political cartoonists are employed by the nation's1,350 newspapers, which have a combined circulation of 44,000,000 daily in print, plus 113,000,000 unique online visitors.
The total number of political cartoonists employed on staff by all American websites is one.
The total number at all magazines is zero.
It wasn't always like this. According to a report issued by the Herblock Foundation, there were 2,000 political cartoonists on staff at newspapers a century ago.
Sure, print media has had to cut back due to a half-century of declining circulation. Writers, photographers and others have all suffered. But cartoonists have been eliminated at the highest rate of any journalism category by far: 99%.
New online media outlets like the Huffington Post, Salon, Slate, Vox, Yahoo News and The Intercept have hired hundreds of journalists — yet no political cartoonists.
There are more political cartoonists working in Iran and China than here.
Why has the U.S. become such a satirical desert?
In candid moments, editors confess that they're afraid. They're scared of angry emails from readers. (Prose doesn't elicit as much reaction.) They're worried their boss' country-club buddies will complain about a cartoon. They're terrified that a major advertiser might cancel its account. Narrowing profit margins and post-9/11 conservatism have amplified editorial cowardice.
When cartoons make the headlines, like last week, it's another story.
News outlets couldn't get enough political cartoons post-Charlie, noted Tjeerd Royaards, editor of the Dutch cartoon web magazine Cartoon Movement. (Disclosure: Cartoon Movement has published my work.) But they wanted it all for free: "the majority of media website[s] simply embedded the cartoons from the[ir] Twitter feed[s], foregoing the courtesy of asking the artists for permission to show their work, let alone pay for it."
Royaards continued: "Although the media certainly seemed to wholeheartedly support cartoonists in the wake of the [Charlie Hebdo] attack, this support proved to be dubious, and might even be considered a greater threat to political cartooning than any terrorist attack could ever hope to be."
Writing about the state of the profession this week, my colleague the alternative political artistMr. Fish painted an even bleaker portrait of the future:
"The significance of those [declining cartoonist job] numbers might best be understood when compared to the dwindling numbers of an endangered species, not unlike the polar bear, who draws worldwide sympathy primarily when pictured drifting forlorn and alone on a shrinking block of ice or lying skinless and butchered by mindless thugs on a crimson bank. Likewise, it should be noted with some urgency that something systemic in the culture (similar to global warming, corporately inspired, government subsidized and willfully ignored by a disempowered public) is substantially diminishing the cartoonist population and threatening the very survival of the rendered word and the contemplative caption — and the very essence of creative dissent."
Mr. Fish's biological metaphor is an apt one.
Over the past few decades we have warned editors that we were in trouble. It's worse now.
We are probably already past the tipping point after which political cartoonist extinction becomes inevitable.
One major threat is the loss of artistic diversity. In the same way that insufficient genetic diversity can cause a species to enter a death spiral — the cheetah is a famous example — American political cartooning no longer has enough practitioners to grow via cross-pollination, by being influenced by and against one another the way that I, for example, saw the work of the cartoonists Mike Peters and Pat Oliphant in the 1970s and wanted to ape the first and rebel against the latter. Most working political cartoonists in the U.S. are over age 55. So many have been laid off or discouraged that, even if I were given a zillion dollars to hire all the best cartoonists left, I'd have trouble finding 10 or 20. A profession that offered a dazzling variety of styles as recently as 2000 looks increasingly cut-and-paste.
There are only two basic styles left: the older, crosshatched, donkeys-and-elephants single-panels influenced by the late Jeff MacNelly, and the wordier, multi-panel approach that emerged in alternative weeklies during the 1990s.
Getting back to the polar bear analogy, there aren't enough "newborn cubs" — young political cartoonists in their 20s — to form the roots of the next wave of political cartoonists if and when editors gain the courage to start hiring. Aside from the fact that there's no way for a young political cartoonist to earn a living, young adults don't see political cartoons in the media they consume.
The top websites read by Millennials, like Vice, Upworthy and BuzzFeed, refuse to hire political cartoonists. You can't get inspired to pursue a profession if you don't know it exists.
What to do?
I'm hoping for greed. Nothing gets clicks like a political cartoon. At some point, some twentysomething editor at a news start-up is going to figure that out.
(Ted Rall, syndicated writer and cartoonist, is the author of the new critically-acclaimed book "After We Kill You, We Will Welcome You Back As Honored Guests: Unembedded in Afghanistan." Subscribe to Ted Rall at Beacon.)
COPYRIGHT 2015 TED RALL, DISTRIBUTED BY CREATORS.COM
Posted by Cole Smithey on January 20, 2015 in Politics | Permalink | Comments (0) | TrackBack (0)
Save to del.icio.us | Digg This
JOHN BOORMAN Tribute Runs One Week: February 11-17

209 West Houston Street, New York, NY 10014
Box Office: 212-727-8110
"BOORMAN," Tribute to Director of DELIVERANCE and POINT BLANK,
Runs One Week, February 11-17

Festival Precedes February 18 Premiere of QUEEN AND COUNTRY,
John Boorman's Sequel to HOPE AND GLORY


BOORMAN, a one-week series showcasing the works of the acclaimed British-born, Ireland-based director John Boorman, will run at Film Forum from Wednesday, February 11 through Tuesday, February 17. 

The series features eight of Boorman's most important films, including his breakthrough 1967 cult crime picture POINT BLANK, starring Lee Marvin; a rare screening of his two-person WWII drama, HELL IN THE PACIFIC, starring Marvin and Toshiro Mifune; social satire LEO THE LAST, winner of the Best Director prize at Cannes, starring Marcello Mastroianni; backwoods suspense classic DELIVERANCE, an Academy Award nominee for Best Picture and Director, starring Jon Voight; new restoration premiere of ZARDOZ, Boorman's sole venture into science fiction, starring Sean Connery; medieval fantasy EXCALIBUR, the director's magnificent take on the Arthurian legend; and HOPE AND GLORY, his Oscar-nominated, comedic childhood memoir of WWII. 

Film Forum is presenting this series in advance of our February 18 U.S. theatrical premiere of Boorman's new film, QUEEN AND COUNTRY, which picks up the story of HOPE AND GLORY's protagonist a decade later as he begins basic training in the early Fifties. 

John Boorman is a five-time Academy Award nominee and two-time winner of the Best Director prize at the Cannes Film Festival, for LEO THE LAST and THE GENERAL (his 1998 portrait of notorious Irish criminal Martin Cahill, which also screens in this series). He is the co-founder of the film journal Projections: Film-makers on Film-making. His autobiography,Adventures of a Suburban Boy, will be on sale at the Film Forum concession during this series and the run of QUEEN AND COUNTRY.

"Boorman" has been programmed by Mike Maggiore.


"Few filmmakers can match John Boorman's visual imagination."
– Terrence Rafferty, The New Yorker

"A master of ambiguous action, unexpected interludes, and charged silences, Boorman in the late Sixties and early Seventies seemed to single-handedly set a new standard for cinema's depiction of physical struggle and nature."
– Gavin Smith, Film Comment
Public screening schedule

All films directed by John Boorman

FEBRUARY 11/12/13 WED/THU/FRI
POINT BLANK (1967) 35mm
Lee Marvin, Angie Dickinson, Keenan Wynn, Carroll O'Connor
WED: 12:30, 2:40, 4:50, 7:00, 9:10
THU: 12:30, 2:40
FRI: 10:00

FEBRUARY 12 THU
HELL IN THE PACIFIC (1968) 35mm
Lee Marvin, Toshiro Mifune
8:30

FEBRUARY 13/15 FRI/SUN
DELIVERANCE (1972) 35mm
Jon Voight, Burt Reynolds, Ned Beatty, Ronny Cox
FRI: 12:30, 2:50, 5:10, 7:40
SUN: 12:30, 2:50, 5:10

FEBRUARY 14 SAT
EXCALIBUR (1981) DCP
Nicol Williamson, Nigel Terry, Helen Mirren, Nicholas Clay
12:30, 3:45, 7:00

FEBRUARY 14/15 SAT/SUN
ZARDOZ (1974) DCP Restoration Premiere
Sean Connery, Charlotte Rampling
SAT: 10:00
SUN: 9:45

FEBRUARY 15 SUN
THE GENERAL (1998) 35mm
Brendan Gleeson, Jon Voight
7:20

FEBRUARY 16 MON
LEO THE LAST (1970) 35mm
Marcello Mastroianni, Billie Whitelaw, Calvin Lockhart, Glenna Forster-Jones
12:30, 5:20

FEBRUARY 16/17 MON/TUE
HOPE AND GLORY (1987) 35mm
Sarah Miles, David Hayman, Derrick O'Connor, Sebastian Rice-Edwards, Sammi Davis
MON: 2:50, 7:30, 9:50
TUE: 12:30, 2:50, 5:10, 7:30, 9:50
Posted by Cole Smithey on January 20, 2015 in Culture | Permalink
Save to del.icio.us | Digg This