THE INTERVIEW — RED BAND TRAILER
Posted by Cole Smithey on September 21, 2014 in Culture, Film | Permalink
Save to del.icio.us | Digg This
Jazz at Lincoln Center - Bill Frisell - This Land: Woody Guthrie's Better World
Posted by Cole Smithey on September 20, 2014 in Culture, Music | Permalink
Save to del.icio.us | Digg This
COLE SMITHEY'S MOVIE WEEK #340
"WETLANDS"
CLASSIC CINEMA — ARTHUR PENN'S "BONNIE AND CLYDE"
Posted by Cole Smithey on September 17, 2014 in DVD, Film | Permalink
Save to del.icio.us | Digg This
Kino Lorber Releases Nine Hollywood Classics
Kino Lorber Releases Nine Hollywood Classics Making their Blu-ray debuts in October
Billion Dollar Brain, Topkapi, True Confessions,Mulholland Falls, Last Embrace, Married to the Mob,Desperately Seeking Susan, The Naked Face and Gorky Park to become available on DVD and for the first time on Blu-ray from Kino Lorber Studio Classics.
NEW YORK, NY - SEPTEMBER 17, 2014 - Kino Lorber is proud to announce its October releases from Kino Lorber Studio Classics, the company's new label dedicated to Hollywood studio classics showcasing the talents of some of the movies' biggest stars and most highly acclaimed filmmakers. The October releases include Billion Dollar Brain, Topkapi, True Confessions, Muholland Falls, Last Embrace, Married to the Mob, Desperately Seeking Susan, The Naked Face and Gorky Park.

Kino Lorber Studio Classics brings audiences these nine hit movies on Blu-ray for the first time, allowing viewers to enjoy these big-screen classics on their home entertainment systems in the highest possible quality. These releases will also be available on DVD. With a diverse group of films showcasing stars such as Michael Caine, Robert De Niro, Nick Nolte, John Malkovich, Christopher Walken, Michelle Pfeiffer, Alec Baldwin, Roy Scheider, Madonna and Roger Moore, and critically-acclaimed directors such as Ken Russell, Jules Dassin, Jonathan Demme, Susan Seidelman, and Michael Apted, Kino Lorber is proud to bring these films to Blu-ray and DVD in editions that collectors and enthusiasts of classic film will want to own.

Each title is individually priced at $29.95 for the Blu-ray and $19.95 for the DVD, with the exception of Last Embrace and The Naked Face, each of which have a SRP of $29.95 for the Blu-ray edition and are both making their DVD debuts with individual SRPs of $24.95.

Billion Dollar Brain stars Oscar®-winner Michael Caine stars as Harry Palmer, recruited by MI5 to stop an oil tycoon who wants to wipe out Communism by starting World War 3. Ken Russell's action-adventure classic will become available on October 7th.

Also streeting October 7th is Jules Dassin's expertly-directed suspense comedyTopkapi, starring a first-rate cast including Maximilian Schell, Peter Ustinov, Robert Morley and Akim Tamiroff in the story of a daring jewel heist. 

True Confessions is a gripping crime drama with screen greats Robert De Niro and Robert Duvall as brothers who find themselves at odds with eachother after getting wrapped up in murder investigation. Directed by Ulu Grosbard and loosely based on the "Black Dahlia" murders, this film also features such great character actors as Charles Durning, Burgess Meredith and Cyril Cusack, and will street on October 7th.

Mulholland Falls, Lee Tamahori's acclaimed thriller starring Nick Nolte and Melanie Griffith and bathed in the stylish period atmosphere of '50s LA, will also become available on October 7th. 

Streeting October 14th is Jonathan Demme's Last Embrace, an homage to the thrillers of Alfred Hitchcock starring Roy Scheider, Janet Margolin and Christopher Walken in the story of a government agent whose world spirals out of control following the mysterious murder of his wife. This edition features a brand new interview with producer Michael Taylor. Married to the Mob, also streeting October 14th, is a madcap comedy starring Michelle Pfeiffer, Matthew Modine and Alec Baldwin about a woman married to stuck in a loveless marriage with a cheating gangster. When her gangster husband is killed by a mob kingpin, she thinks she's free of the mob for good, but when she realizes the mobster wants her as his mistress, she's torn between helping the FBI take him down or continuing to hide out in Manhattan. 

Also streeting October 14th is Susan Seidelman's hit comedy Desperately Seeking Susan, starring Rosanna Arquette and Madonna in the tale of a bored housewife who follows a young couple's romance as it plays out in the personal ads of a local paper, until a mishap leads to her getting involved in their affair herself! This edition features audio commentary by director Susan Seidelman and producers Barbara Boyle, Midge Sanford, and Sarah Pillsbury, and alternate endings.

Streeting October 21st are The Naked Face, directed by Bryan Forbes, a thrilling adaptation of the Sidney Sheldon novel, with Roger Moore as a doctor who finds himself targeted by assassins and must figure out why they want him dead; and the acclaimed mystery Gorky Park, directed by Michael Apted and starring William Hurt, Lee Marvin and Brian Dennehy, about a detective investigating murders in Moscow who finds himself in over his head when he it comes to light that the KGB might have been involved. This edition features a brand new interview with director Michael Apted.
BILLION DOLLAR BRAIN
Blu-ray and DVD Street Date: October 7, 2014
Blu-ray SRP: $29.95
DVD SRP: $19.95
1967/UK/English/Action-Adventure/111 min./NR/Color
Director: Ken Russell
Starring: Michael Caine, Karl Malden, Ed Begley, Francoise Dorleac, Guy Doleman
Synopsis: It's Harry Palmer's Wits Against The World's Deadliest Mind! Secret agent Harry Palmer (Michael Caine, Get Carter) is blackmailed into working for MI5 again on his wildest - and most dangerous - assignment yet. An insane oil billionaire, intent on destroying Communism by starting a new world war, is close to achieving his goal with the help of the world's largest, and most powerful, computer. Harry is the only man who may be able to stop him; but as he races from London to Finland to Latvia to Texas and back, he must determine who of his supposed allies is the one he can actually trust, a sexy Russian agent, Soviet colonel or an American mercenary. Legendary filmmaker Ken Russell (Altered States) directed this third and final film in the great Harry Palmer series. The wonderful supporting cast includes Karl Malden, Ed Begley and Francoise Dorleac.
TOPKAPI

Blu-ray and DVD Street Date: October 7, 2014
Blu-ray SRP: $29.95
DVD SRP: $19.95
1964/USA/English/Crime Drama/120 min./NR/Color
Director: Jules Dassin
Starring: Melina Mercouri, Peter Ustinov, Maximilian Schell, Robert Morely, Akim Tamiroff
Synopsis: A skillful blend of romance and comedy, Topkapi shimmers with hilarity, action and great performances! Fun-filled and suspenseful, it's an incredibly ingenious affair and a considerable pleasure to watch. Trouble brews beneath the exotically curved towers of Istanbul when the equally exotic - and equally curved - Elizabeth Lipp (Melina Mercouri, Never on Sunday) recruits her former lover (Maximilian Schell, The Black Hole) in a scheme to heist the pride of the city's Topkapi museum: a jewel-encrusted dagger. But the "job" soon turns into a high-tension, high wire act, when the bumbling fall guy (Peter Ustinov, Death on the Nile) and other amateurs they've hired as help get more than they had bargained for. The stellar cast also includes Robert Morley (Beat the Devil) and Akim Tamiroff (Touch of Evil). Directed by great Jules Dassin (Rififi).
TRUE CONFESSIONS
Blu-ray and DVD Street Date: October 7, 2014
Blu-ray SRP: $29.95
DVD SRP: $19.95
1981/USA/English/Crime/108 min./R/Color
Director: Ulu Grosbard
Starring: Robert De Niro, Robert Duvall, Charles Durning, Burgess Meredith, Dan Hedaya
Synopsis: Screen legends Robert De Niro and Robert Duvall deliver riveting performances as siblings embroiled in a shocking homicide investigation that pits them against one another. Based on the true and still-unsolved "Black Dahlia" murder case, this entertaining, intelligent and thoroughly satisfying film noir culminates in a mind-blowing climax that will put you on the edge of your seat! Detective Tom Spellacy (Duvall) and Father Desmond Spellacy (De Niro) find their worlds colliding amidst a flurry of political finger-pointing and public outcries over a scandalous, headline-making murder. As Tom hunts down the elusive killer, his investigation threatens to expose secrets that could ruin his brother... and rock the foundation of his beloved Catholic church. The top-notch supporting cast includes Charles Durning, Kenneth McMillan, Burgess Meredith, Cyral Cusack and Dan Hedaya. Stylishly directed by Ulu Grosbard (Straight Time).
MULHOLLAND FALLS

Blu-ray and DVD Street Date: October 7, 2014
Blu-ray SRP: $29.95
DVD SRP: $19.95
1996/USA/English/Crime Drama/107 min./R/Color
Director: Lee Tamahori
Starring: Nick Nolte, Melanie Griffith, Chazz Palminteri, Michael Madsen, Chris Penn, John Malkovich
Synopsis: Nick Nolte, Melanie Griffith, Chazz Palminteri, Michael Madsen, Chris Penn, Treat Williams, Jennifer Connelly, Andrew McCarthy and John Malkovich star in Mulholland Falls, a brilliant, high-powered crime thriller electrified by hard-hitting action, forbidden passion and shocking intrigue. In 1950s Los Angeles, Max Hoover (Nolte) leads an elite squad of four detectives who play by their own rules, dealing with criminals the only way they know how - with deadly force. But when they investigate the murder of a beautiful young woman, the detectives find themselves embroiled in a brutal war against murder, corruption and high-level conspiracy, as they face a terrifying secret that the US government is determined to keep hidden at any price. Top-notch direction by Lee Tamahori, the director of Once Were Warriors and Die Another Day.
LAST EMBRACE
Blu-ray and DVD Street Date: October 14, 2014
Blu-ray SRP: $29.95
DVD SRP: $24.95
1979/USA/English/Mystery/102 min./R/Color
Director: Jonathan Demme
Starring: Roy Scheider, Janet Margolin, Christopher Walken, John Glover, Mandy Patinkin
Synopsis: Roy Scheider (Jaws) stars in this twisting tale of murder and mystery skillfully directed by Jonathan Demme (Married to the Mob) and inspired by the great films of Alfred Hitchcock. Harry Hannan (Scheider) is a government agent still haunted by the violent death of his wife begins to lose everything else dear to him, his colleagues and boss have turned against him, he's lost his apartment to a brainy anthropologist (Janet Margolin) and a psychopath starts sending him death threats. Harry hires a private investigator (Sam Levene) to help him find the identity of the stalker and unravel the intricate puzzle, but it only leads to more questions as the killer gets closer and closer. Based on the novel, The 13th Man by Murray Teigh Bloom. The stellar cast includes Christopher Walken, John Glover and Charles Napier.
SPECIAL FEATURES:
New interview with producer Michael Taylor
MARRIED TO THE MOB

Blu-ray and DVD Street Date: October 14, 2014
Blu-ray SRP: $29.95
DVD SRP: $19.95
1988/USA/English/Comedy/104 min./R/Color
Director: Jonathan Demme
Starring: Michelle Pfeiffer, Matthew Modine, Alec Baldwin, Dean Stockwell, Oliver Platt, Mercedes Ruehl
Synopsis: Michelle Pfeiffer, Matthew Modine, Dean Stockwell, Alec Baldwin and Mercedes Ruehl redefine family values in this bona fide mafia hit that's so hilarious, it's "an offer you can't refuse" (The Washington Post)! Angela De Marco (Pfeiffer) is stuck in a loveless marriage to an adulterous philanderer who also just happens to be a mobster. Tired of living with a two-timing husband and his laundered money, she gets a new lease on life when he's iced by Tony "The Tiger" Russo; a ruthless kingpin who's always had a thing for the beautiful Angela and now is free to put the moves on the grieving widow. Kissing the Long Island mafia arrivederci, Angela starts over in Manhattan, finding a new job in a beauty salon, but Tony's hot on her trail, still determined to make her his mob mistress. Now, Angela must choose between helping the FBI or spend the rest of her life being Married To The Mob. Directed by Jonathan Demme (Last Embrace).
DESPERATELY SEEKING SUSAN
Blu-ray and DVD Street Date: October 14, 2014
Blu-ray SRP: $29.95
DVD SRP: $19.95
1985/USA/English/Comedy/104 min./PG-13/Color
Director: Susan Seidelman
Starring: Rosanna Arquette, Madonna, Aidan Quinn, Steven Wright, John Turturro
Synopsis: If you know what to look for, you can find almost anything in the personal ads... including the love of your life! Rosanna Arquette (Pulp Fiction) is irresistible in her first starring role and pop star Madonna (Evita) gives a marvelously comic performance in this delightful madcap comedy about mistaken identity. Bored New Jersey housewife Roberta (Arquette) fills her days by reading the personals and following an ongoing romance between "Jim" and "Susan" (Madonna); mysterious drifters who appears to lead the kind of free-spirited lives she can only dream about. And dream she does, until the day she actually shows up at the couple's pre-arranged rendezvous in New York City... and after a bump on the head, a bout of amnesia turns her into Susan and opens the door to intrigue, laughter and love! Directed by Susan Seidelman (Making Mr. Right) with a stellar supporting cast that includes Aidan Quinn, Mark Blum, Robert Joy, Laurie Metcalf, Will Patton, Steven Wright, Peter Maloney, Giancarlo Esposito and John Turturro.
SPECIAL FEATURES:
* Audio Commentary by Director Susan Seidelman and Producers Barbara Boyle, Midge Sanford, and Sarah Pillsbury
* Alternate Endings
THE NAKED FACE

Blu-ray and DVD Street Date: October 21, 2014
Blu-ray SRP: $29.95
DVD SRP: $24.95
1984/USA/English/Mystery/103 min./R/Color
Director: Bryan Forbes
Starring: Roger Moore, Rod Steiger, Elliott Gould, Art Carney, Anne Archer
Synopsis: The Naked Face is a shocking and suspense-filled thriller that takes Roger Moore (The Spy Who Loved Me) out of the world of James Bond and into the world equally dangerous and violent. He stars as a doctor targeted for murder in this gripping film version of the Sidney Sheldon best-selling novel wonderfully directed by Bryan Forbes (Seance on a Wet Afternoon). Dr. Judd Stevens (Moore), an affluent Chicago doctor, suddenly finds himself trapped in a waking nightmare, surrounded by shadowy figures bent on his destruction. Who are these mysterious figures and what are their sinister motives? As the mystery deepens, the web tightens around him and when the police appear to have deserted him, Dr. Stevens is forced to confront his would-be assassins alone. The all-star cast includes Rod Steiger, Elliott Gould, Anne Archer and Art Carney.
GORKY PARK
Blu-ray and DVD Street Date: October 21, 2014
Blu-ray SRP: $29.95
DVD SRP: $19.95
1983/USA/English/Mystery/128 min./R/Color
Director: Michael Apted
Starring: William Hurt, Lee Marvin, Brian Dennehy, Ian Bannen, Joanna Pacula
Synopsis: Murder, seduction and intrigue in the Kremlin! Based on the best-selling novel by Martin Cruz Smith, Gorky Park is a gripping and brilliant classic thriller starring William Hurt (Body Heat), Lee Marvin (The Dirty Dozen), Brian Dennehy (Best Seller) and Joanna Pacula (The Kiss). When three murder victims are discovered in Moscow's Gorky Park with their faces and fingertips removed, Detective Renko (Hurt) is determined to identify the bodies and find the killer, but when the clues point toward the involvement of the KGB, Renko is hunted by the secret police and confronted by an intricate web of deception and treachery reaching to the highest political levels. Directed by Michael Apted (The World is Not Enough) with a great supporting cast that includes Ian Bannen (The Offence) and Richard Griffiths (Withnail & I). 
SPECIAL FEATURES:
New Interview with Director Michael Apted
About Kino Lorber:
With a library of 1,000 titles, Kino Lorber Inc. has been a leader in independent art house distribution for over 30 years, releasing over 25 films per year theatrically under its Kino Lorber, Kino Classics, and Alive Mind Cinema banners, including five Academy Award® nominated films in the last seven years. In addition, the company brings over 70 titles each year to the home entertainment market with DVD and Blu-ray releases under its five house brands, distributes a growing number of third party labels, and is a direct digital distributor to all major platforms including iTunes, Netflix, HULU, Amazon, Vimeo, Fandor and others.
Posted by Cole Smithey on September 17, 2014 in BLU-RAY | Permalink

Save to del.icio.us
|
Digg This
A Hillary Clinton Candidacy is an Incredibly Depressing Thought By Ted Rall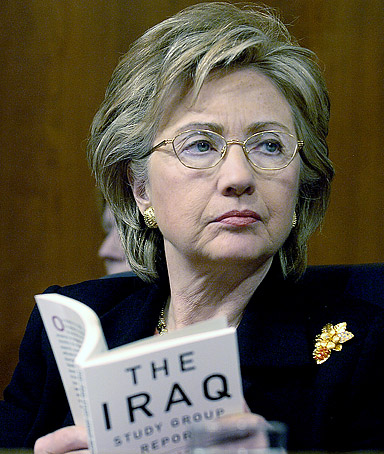 Women of a certain age are thrilled by the prospect of a possible President Hillary.
Over-50 females are so overjoyed that one of their own might finally achieve the nation's top political post — better two centuries late than never — that they're willing to overlook the former First Lady/Senator/Secretary of State's not-so-minor defects.
Like her very long resume, minus significant achievements. Like the blood of a million Iraqis dripping off her warmongering claws. (She voted in '03 for a war she ought to have known would soon become unpopular. What was she worried about? That New Yorkers, liberal as they come, wouldn't reelect her in '06?) Like the ugly optics of America's first woman president having to be a former First Lady because we can't find a woman who made something of herself on her own merits. Like the nasty truth that, aside from her chromosomes and body parts, she's not one of them at all — just another slimy influence peddler. Not to mention, she doesn't stand for anything, or have a vision that differs from the status quo.
For the rest of us, a Hillary Clinton presidential campaign is an incredibly depressing thought.
Starting with her much-vaunted Inevitability. Doesn't anyone remember that we went through this in 2008? Democrats didn't want her then; we don't want her now. Can't we do better than this tired old warhorse?
When I see Hillary's chipmunk-cheeked countenance, I see old. Part of this is primal physicality, the sexist social conditioning that says guys age more gracefully than women. (How much you wanna bet that'd be the opposite under matriarchy?) But Hillary is actuallyold: she'll be 69 on Election Day 2016. Her supporters point out that that's the same age as Reagan when he took office. Considering the fact that the Gipper went senile in office, they might want to hush up.
For years, Clinton has played it hush-hush about her not-so-awesome health. This is one of those times, as with John McCain, where you'd have to pay close attention to the candidate's veep pick.
More than calendar years, Hillary is spiritually old. She's a throwback to another time, one that's never coming back.
Like Reagan, Hillary Clinton is a cultural hiccup. Disconnected. Passé.
Post-Obama, who for his many shortcomings managed for a time to project a youthful vigor, an elderly President Hillary would mark a grim, dutiful restoration, a political return to the 1970s and 1980s, when she toiled as a talented if sketchy corporate lawyer. She harkens to the presidency of her husband, a conservative who banished liberals from the Democratic Party, severing the last connection between Washington's political classes and the people they were supposedly sent to serve, never to be seen again after post-9/11 Bush went insane right-wing and Obama codified and expanded it all.
I don't mind that she stayed married to Bill after he cheated on her. What's unforgivable is that she stayed married to him after he destroyed American politics.
I hate Hillary — if you think about the million Iraqis she voted to kill, how can you not? — yet I don't feel contempt for her.
What I feel is bored.
Bored, tired and sad. We have so many pressing systemic problems (economic decline, endless war, national purposelessness); is it really possible we're going to have to endureanother four-to-eight years of a presidency that doesn't even try to address what ails us?
Because, let's face it, there is no universe in which a President Hillary kicks ass. There is no chance, not even a remote one, that she is interested in decisive action on climate change (her "plan": hope for young people to form a "movement"), bold moves to reduce unemployment or raise wages, putting an end to NSA spying on Americans (she's in favor of it), or slamming the breaks on Washington's kneejerk reaction to anything that happens overseas: blow it up (she's really in favor of war).
You only get one thing by electing a President Hillary: a first woman president.
An old, tired, unimaginative, uninspiring, boring, useless, first woman president.
Yay.
(Ted Rall, syndicated writer and cartoonist, is the author of the new critically-acclaimed book "After We Kill You, We Will Welcome You Back As Honored Guests: Unembedded in Afghanistan." Subscribe to Ted Rall at Beacon.)
Posted by Cole Smithey on September 17, 2014 in Culture, Current Affairs, News, Politics | Permalink

Save to del.icio.us
|
Digg This
Laniakea: Our Home Supercluster
Posted by Cole Smithey on September 16, 2014 in Culture, Nature, Video | Permalink

Save to del.icio.us
|
Digg This
NYFF TO PREMIERE EDWARD SNOWDEN DOCUMENTARY "CITIZENFOUR"
New York Film Festival director Kent Jones announced the biggest news of this year's festival. Laura Poitras's documentary "CITIZENFOUR" — about Edward Snowden's saga of leaking revelations about the NSA's far-reaching and systemic spying on global citizens — will premiere on Friday, October 10 as part of the festival's Main Slate program.
Not only is it the first time in the festival's 52-year history that a film has been added to the Main Slate after its selections were announced, but "CITIZENFOUR'S" premiere at the New York Film Festival steals significant thunder from other recently preceding festivals such as Toronto and Telluride.
Click Here to Visit the FilmBlog for Artwork, Movies, Music, News, Photos, Politics, Posters, Reviews, Trailers, Videos, and More...
Posted by Cole Smithey on September 16, 2014 in Culture, Current Affairs, Film Festivals | Permalink

Save to del.icio.us
|
Digg This